FACTS AND COMPANY HISTORY
The success Story – from 1868 to the present day.
2013

Department Store in Düsseldorf
On 16 October 2013, Breuninger laid down the red carpet for guests from around the world and hosted an opening event for its exclusive 15,000 square metre department store in the regional capital of Düsseldorf.

2012

Best Fashion Retailer Award 2012
In 2012 the WeAr Global Magazine nominated the Breuninger flagship store as the "Best Fashion Retailer of the World". The Concept Store Webster in Miami and Selfridges in London also received awards. This put Breuninger in a league with the world's most prestigious fashion and lifestyle enterprises and set a benchmark for Germany.

2012

Willy Oergel
In September Willy Oergel takes over as Chairman of the Management Board, succeeding Willem G. van Agtmael.

2008

www.breuninger.com
With its internet shop, Breuninger launches one of the most successful premium Designer & Trend online stores.

2006

FlagshipStore
At the flagship store in Stuttgart, the Premium World of Luxury Accessories opens its doors.

1991

Recognition
For the first time Breuninger is listed as Number 1 department store by "Avis' Best of Germany".

1975

Willem G. van Agtmael
Heinz Breuninger appoints Willem G. van Agtmael as his successor. The young Dutchman had already made a name for himself as the youngest director of an international hotel chain.

1973

Shopping Center
Breuningerland Ludwigsburg opens its doors – an advancement on the American model of a shopping center with longer opening hours, especially at weekends.

1959

The first store card in Germany
As the first company to do so in Europe, Breuninger introduces cashless payment by means of a store card for customers. But it is not only in this respect that Heinz Breuninger sets landmarks: customers are offered what was at the time a novel shopping experience with facilities such as a kindergarten, multi-storey car park and a selection of excellent restaurants.

1950

New York, Detroit and Chicago
Heinz Breuninger is inspired by the department stores in the US and speed and customer service become the cornerstones of his philosophy. Breuninger becomes the first store in Germany to have an escalator, elevators and Germany's largest alterations department.

1933

Hard times
Alfred Breuninger, who took over the company after the death of his father, faces numerous obstacles during the National Socialist era: during World War II the Breuninger stores are reduced to rubble. Heinz Breuninger takes over the helm and builds again whenever he has spare cash to do so, rebuilding the business piece by piece.

1929

50 years of Breuninger
In 1929 building starts on the men's fashion store in the Marktstrasse 3, a building that is connected below and above ground with the already existing stores - a total of 9 upper floors over an area of 14,140 square metres.

1916

E. Breuninger AG
In the midst of World War I the new store location is moved forward to the Marktplatz and made a joint stock company.

1912

The first staff magazine
On 01.08.1912 the first edition of the staff magazine "Breuninger Monatsblätter" appears – making today's company periodical "der interne" the oldest staff magazine in Germany.

1908

The second store is opened
The company continues to grow and Eduard Breuninger decides to build a new premises: a new store with its main entrance on the Sporerstrasse is opened. The company founder reaffirms his conviction: "It is and will remain the company's firm policy to win and retain the confidence of our customers by supplying a solid selection of fresh and affordable goods and attentive, obliging service."

1896

The first mailing system
A list of goods with prices plus a map of the regional capital is delivered to homes.

1888

Breuninger looks for staff
Even when established as an entrepreneur, Eduard Breuninger keeps coming up with new ideas: He acquires a premises in Münzstrasse 7 – formerly the inn called "Zum Grossfürsten" – and opens up a new business which he names "E. Breuninger zum Grossfürsten". But he soon runs out of space. New premises and new staff are needed.

1881

Opening the first shop
On 1 March 1881, Eduard Breuninger opens his shop in the Münzstrasse in Stuttgart with a mild sensation: he starts off with a sale.

1868

Apprenticeship
Breuninger, too, started from the bottom. When the 14 year old Eduard Breuninger begins his commercial apprenticeship in his home town of Backnang, he is laying the foundation for his future enterprise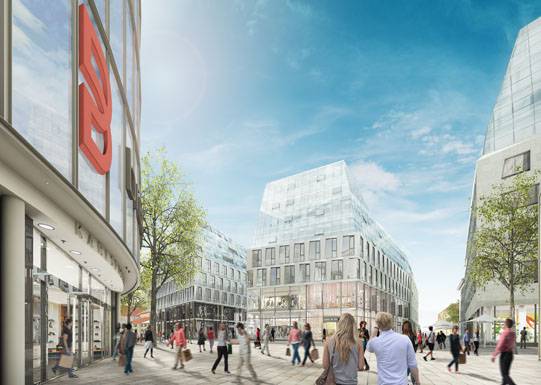 At the heart of all Breuninger real estate.
Real Estate is responsible for expansion and property management for all locations.
The main areas of responsibility in the real estate sector are the expansion of new Breuninger locations and the professional handling of Breuninger real estate plus management of real estate assets. The Breuningerländer in Sindelfingen and Ludwigsburg are excellent examples of this.
Breuninger Real Estate is developing possible expansion locations to enable you, and all the other fashion lovers throughout Germany, to have the benefit of our exclusive shopping experience and our outstanding customer service. We are keen to hear about any interesting properties or sites you may have to offer us for purchase or rental.