Sustainability at Breuninger Gastronomy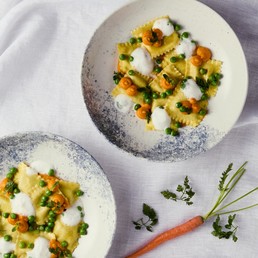 Food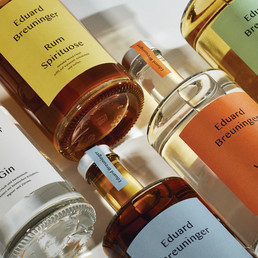 Drinks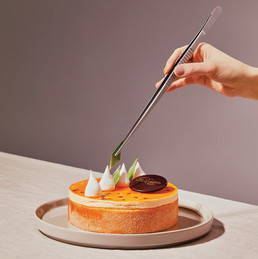 Confiserie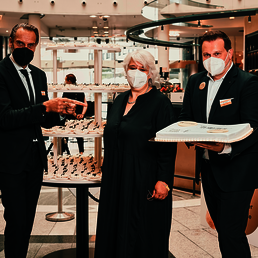 Social Engagement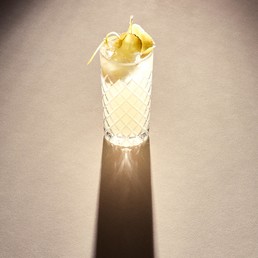 Responsible use of resources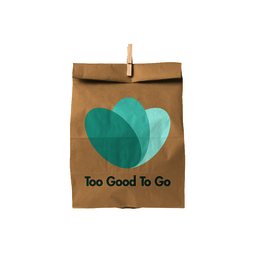 Collaboration with Too Good To Go
Beehives on the flagship store in Stuttgart
Breuninger's restaurants source the majority of their ingredients from producers in the immediate vicinity of the relevant location. This supports the local economy and avoids lengthy supply chains and distances. Products with regional ingredients are marked with a green "R" on our menus. The green "V" stands for vegan and/or vegetarian dishes. Our professional chefs are constantly creating delicious new recipes and consciously avoid using ingredients of animal origin, for example.
An important supplier of salads and vegetables as well as the herbs used in our kitchens is Keltenhof in Filderstadt, only a few kilometres from Stuttgart. Our meat and sausage products are sourced from local butchers in the south of Germany. Even the most Swabian of all our dishes – lentils and spätzle – is made entirely from local ingredients: our spätzle from Fellbach are accompanied by the popular Heckengaeu lentils from the Stuttgart region.
Regular inspections of our suppliers and continuous communication with our partners ensure that the high quality requirements Breuninger expects of its suppliers, and our customers expect of Breuninger, are met. The use of seasonal products is reflected in our menus and rounds off the culinary experience.
Just like we do for our food, we attach great importance to local ingredients, long-term partnerships and short supply chains in the sourcing of our drinks.
For example, our water is sourced from a nearby spring in Ensingen, Baden-Wuerttemberg. We also ensure that the wines on our wine menu are sourced from local vintners. By opting for Geldermann sparkling wine from Breisach am Rhein, we have chosen a German producer over imported prosecco.
Long-term supplier relationships enable partnerships, such as our collaboration with Baden-Wuerttemberg-based fruit juice manufacturer Dietz, who produces our Breuninger spritzers.
Our range of own-brand Eduard Breuninger spirits includes Eduard Breuninger gin, vodka, whisky, rum and Willi pear brandy. It goes without saying that these drinks are also served in our Eduard's bars (in Stuttgart, Duesseldorf, Nuremberg and Ludwigsburg). Our gin and vodka are produced in close collaboration with the local distillery of the Fürst Hohenlohe winery in Oehringen. Our Eduard Breuninger whisky, rum and pear brandy are produced in collaboration with the Senft distillery in Salem.
Up to 95% of our products are made fresh in our very own Breuninger factory every day. Here, too, we exclusively use local ingredients, where possible. That is how the finest truffles, cakes, tarts and baked goods have been lovingly crafted by hand since 1951.
During this process, we do not use animal gelatins*, flavourings, artificial colours or preservatives. All our macarons are made from gluten-free ingredients and, except for our quiches, all our products are suitable for vegetarians.
*Individual seasonal exceptions possible, products are labelled
Doing our bit for the community is very important in our restaurants, too. Here are some of our projects.
We support the "Frühstück für Kinder" ("Breakfast for Children") campaign in partnership with Bürgerstiftung Stuttgart ("Stuttgart Community Foundation"). – In many big cities in Germany, there are large numbers of children who go to school without breakfast. Bürgerstiftung Stuttgart funds the "Frühstück für Kinder" project, which provides children at hotspot schools in Stuttgart with a regular morning meal.
Students from elementary and secondary school Ostheim prepared a hearty buffet under the instruction of the dedicated team at Sansibar by Breuninger Stuttgart. Afterwards, the students enjoyed the breakfast buffet together with guests. Numerous Breuninger customers were joined by several founding members of Bürgerstiftung Stuttgart who were able to explain more about the "Frühstück für Kinder" campaign and other projects of Bürgerstiftung Stuttgart in a shared dialogue. The donations generated by the event went directly to Frühstück für Kinder e.V.
As well as detailed insights into the culinary profession, the highly motivated students were offered the prospect of an internship at the restaurant.
Our Confiserie also frequently gets involved in various campaigns. For example, at Easter 2020, 8,000 chocolate bunnies were donated to all employees of the Stuttgart and Freiburg hospitals for their tireless efforts during the coronavirus crisis, as well as to a children's home in Freiburg.
Another recurring project is our Mothers' Day campaign. During the campaign, around 1,000 strawberry tarts are sold for €1 at several of our locations. The proceeds are donated to various local projects and charities, such as the Wolkenputzer Foundation, which provides children from low-income backgrounds and children in care with opportunities to explore different career options.
To celebrate the 70th anniversary of our Confiserie, we held a tart initiative at our locations in Stuttgart, Ludwigsburg, Sindelfingen, Düsseldorf, Nuremberg and Freiburg. The proceeds of all the tarts sold were donated to the respective local community foundations. Our long-standing partner, Bürgerstiftung Stuttgart, distributed the €3,000 to causes such as "Supp optimal, Essen für alle" (soup optimal, food for everyone) – a mobile soup kitchen for the homeless, organised by Bürgerstiftung Stuttgart during the coronavirus pandemic.
Sometimes, it only takes a little change to get one step closer to being more sustainable. For example, we have found a way to eliminate all plastic packaging from the biscuits we serve with our coffee.
At the end of 2019, all disposable cups in the administrative offices and the employee canteen at our Stuttgart location were replaced with reusable glasses.
In addition, we no longer give out plastic straws in our restaurants. Customers can receive eco straws on request. These are environmentally friendly alternatives made of sustainable materials, which biodegrade when exposed to oxygen, sunlight (UV radiation) and heat.
More information about our eco straws can be found here: apssupply.com
Since October 2019, customers have been able to purchase food from (Karls) Kitchen in Stuttgart and from the two Frish restaurants at Breuningerland Ludwigsburg and Sindelfingen via the "Too Good To Go" app.
Many restaurants have leftover food at the end of the day, be it in the bakery display window, at a lunch buffet or at the supermarket. Shops and restaurants can sell this leftover food via the "Too Good To Go" app. This results in a win-win situation: customers can enjoy delicious food at a discounted price, while shops and restaurants waste less food and reduce their impact on the environment!
At (Karls) Kitchen and the Frish restaurants in Ludwigsburg and Sindelfingen, a full meal can be purchased for only four Euros between 19:15 and 19:30. The only condition is that customers bring their own container and place the order in the app in advance.
Further information about "Too Good To Go" can be found here: toogoodtogo.de
Around 300,000 seasonal workers have started work at Breuninger's Stuttgart location. Since April 2019, 10 bee colonies have been housed on the roof of our Stuttgart store. One bee colony consists of 30,000 to 40,000 bees. The goal is to produce the first ever Breuninger honey, which will then go on sale in Stuttgart.
The city provides the ideal living conditions for the bees. Green roof terraces, small gardens, unfertilised flower meadows, brownfield sites and large parks offer an unparalleled source of food. Urban honey has been proven to be free from car exhaust fumes and fine particles, as the bees filter these harmful substances out of the nectar. The wide variety of flowers in the wild green spaces of the city also provides a good basis for Breuninger's first own-brand honey.
The bees have been on the search for nectar within a three-kilometre radius of the roof of our store for a whole year. The result of their work can be purchased in our Confiserie.